Alleghany Music Co.

Recordings






Alleghany Music announces the release of Steve Kilby's new CD entitled "Steve Kilby, Plain and Fancy". Steve has some very special guests appearing with him on this recording. Three-time national champion Steve Kaufman joins Steve on two tunes,"Beaumont Rag" and "Alabama Jubilee". Renowned luthier and National Heritage Award winner Wayne Henderson plays with Steve on two selections,"Bye, Bye Blues" and "Sweet Georgia Brown". Another national champion Robin Kessinger trades breaks with Steve on another two selections, "Big Sandy River" and "Bill Bailey". Bluegrass legend George Shuffler along with his brother John Shuffler on bass performed a couple of tunes with Steve, one being the song made famous by George with the Stanley Brothers, "Will You Miss Me" and the other being "Nine Pound Hammer". Steve Kaufman, Wayne Henderson, and Robin Kessinger joined Steve Kilby on one song," Down Yonder". There are two originals written by Steve Kilby also on this album, "Deerfield" and "New River Waltz". Steve's version of "Black Mountain Rag", with which he won the NC state championship, the Fiddler's Grove championship and the Galax Va. contest, is also included. Sixteen songs total make a well rounded flatpicking album.

Below is a complete list of tunes on the CD and some pictures taken during the recording sessions.

We have an order form that you can use to order via email. The price of this CD is $17.00 each postpaid. To go to the order form CLICK HERE




Alleghany Music Co. P.O. Box 40 Piney Creek, NC 28663

(336) 359-8530 --- 2guitars@alleghanymusic.com





Here is the list of songs and a promo for each song on Steve's new CD "Steve Kilby, Plain and Fancy" The songs are listed in the order they will be on the CD.




1. "Alabama Jubilee" is a tune that shows the influence of popular music on the instruments used in traditional music. My friend and three-time national flatpicking champion Steve Kaufman helped trade solos on this cut. I performed this tune during the eighties with Garland Shuping's band, Wild Country.

2. "Big Sandy River" is a bluegrass tune I learned in the seventies while playing with Hoyt Herbert and the Strings of Five. I learned it in the back of the camper from fiddler Ken Poovey and played it with Robin Kessinger the first time we met in 1979, so I asked him back for a repeat performance on this CD.

3. "Bye Bye Blues" is a tune I learned from Wayne Henderson who makes a guest appearance on this cut. He didn't know I was learning the tune while I watched him play it, but he did such a great job that I went home and tried to remember the melody. I came close enough to call it my version.

4. "Jerusalem Ridge" is a fiddle tune written by Bill Monroe that adapts very well to the flatpicking guitar style. I was greatly influenced by Tony Rice who has recorded an excellent version of this tune. This cut I believe demonstrates the "High Lonesome Sound" of bluegrass music.

5. "Will You Miss Me" is done here by George Shuffler with my help. George made this song famous with the Stanley Brothers in the 1950's and is the originator of the crosspicking style of guitar. His techniques have greatly influenced flatpick guitar playing for decades, so all you guitarists will understand when I say I was in "seventh heaven" while playing this tune with George and his brother John on bass.

6. "Beaumont Rag" is a tune played in many guitar competitions. I won the Galax Fiddlers Convention guitar contest with it in 1979 and as every guitar picker knows, Steve Kaufman also knows how to win a contest. I asked him to help me with this tune because we played it that year when we met at Galax.

7. "Red Haired Boy" is a tune I learned from recordings of Tony Rice and Doc Watson. Each had a great version, Doc called his "Little Begger Boy" but it is the same tune. In the past few years I have come up with my version of this tune which changes the timing a little. My wife is especially fond of this version of Red Haired Boy.

8. "Bill Bailey" is another example of the influence of popular music on traditional styles of music. Robin Kessinger, a national flatpicking champion, adds his jazzy notes to this cut and makes me work hard to keep up with him. Tunes like this have become a mainstay in guitar jam sessions across the country.

9. "Nine Pound Hammer" is a bluegrass classic performed here by George and John Shuffler with me filling in when they needed a rest. I first heard George play this with the Stanley Brothers on a live recording when I was learning to play guitar. While in the studio warming up we did this tune and it sounded so good we decided to include it on the CD.

10. "Black Mountain Rag" is the tune I have won the most contests with, 1979 NC state championship and 1980 Galax best all around performer among others. I actually learned this tune from a Tommy Jackson fiddle record so I did it in the key of A like a fiddler would and a couple of years later I heard Doc Watson playing it in a C position. I still play it in A.

11. "Deerfield" is a tune I wrote in the mid-eighties while riding along the Blue Ridge Parkway admiring the deer in the fields. Of course I had to wait until I got home and stopped the car to try the melody on the guitar. Some people have told me this haunting melody conjurs up scenes of cold foggy mornings in the hills and hollers of the Blue Ridge Mountains.

12. "The Fiddle Tune Medley" is three tunes, Fishin' Creek, Marmaduke's Hornpipe and The Staten Island Hornpipe. Fishin' Creek I learned from Dan Crary's first guitar album in the 1970's. Marmaduke's Hornpipe I learned from my wife Penny who played back-up guitar for some good fiddlers before we met. I'm sure glad she recorded some of those fiddlers. The Staten Island Hornpipe I learned from a New York old-time band at the Galax Fiddlers Convention during the pouring rain, you had to be there to understand.

13. "Down Yonder" is a tune I played with my grandfather Cranor Kilby who was an old time fiddler in Wilkes county NC. When I was 14 years old I really liked doing that little lick that he let me do in Down Yonder. I have some really good help on the cut, Wayne Henderson, Steve Kaufman, Robin Kessinger and John Shuffler on bass. Grandpa would have been proud of this one.

14. "Listen To The Mockingbird" was adapted to the guitar by the late great Clarence White and is one of my favorites to listen to from the old tapes. Clarence White influenced many guitar players of my generation with his lightening fast crosspick style and his innovative timing in a bluegrass setting. When fiddler Scotty Stoneman did this tune with Clarence he imitated a Gooney bird in the song and I think I did also at one point but it's up to you to find it.

15. "Sweet Georgia Brown" is a tune that I think Wayne Henderson and I learned about the same time. I have a tape of a jam session from a party at his house about twenty years ago and we played this tune with Tony and Gary Williamson. From the reaction we had on the tape we thought we had just played the hottest tune we had ever played. Twenty years later Wayne and I are still trying to make it hotter.

16. "New River Waltz" is a song I wrote about six years ago while driving along the New River close to Piney Creek NC where I now live with my wife Penny. The New River is such a beautiful part of North Carolina that I felt it needed a song that reflected this beauty. Now we enjoy the mountain views along the New River every day. I thank God for being able to enjoy the beauty of this world and for my ability to make music.





I would like to thank everyone who helped on this recording. It was certainly a privilege and an honor to record with George and John Shuffler, two of the pioneers of bluegrass music. I think of our friendship and the fun we had recording these tunes, especially when I hear the lick I stole from George at the end of "Will You Miss Me".

I admire George Shuffler for being the innovative guitarist that he is. Thanks a lot George for helping me with this recording. I'll always value our friendship.

Shuffler style bass playing has always been admired by bass players everywhere and John's combination of walking bass lines and harmonics, as only a Shuffler can do, are evident on this recording. Thanks John for your sense of timing.

Steve Kaufman has done more to help people learn to flatpick than anyone ever could in one lifetime. I was lucky enough to become his friend before, as Wayne says, he went on to "higher briars and bigger berries". Thanks for all your work on this album.

Robin Kessinger is just a lot of fun to be around even when we're not playing guitars. I'll never forget how he stood on the back deck of our house wanting to go deer hunting from there. He's a good friend, great guitar picker and maybe a part-time restaurant clown.

Wayne Henderson and I go way back to his early years of building guitars, and like everyone else I'm still on the waiting list for a Henderson guitar. I'm still lucky enough to live twelve miles from Wayne and get to hang-out at his shop and participate in some great jam sessions in his house.

My long time friend and former band member Bill Williams adds bass to a number of the tunes on this recording. He has been a steadfast friend and solid bass player. Thanks for your help Bill.

Scott Gentry lives in Roaring River NC and is one of North Carolina's best bass players. I met him through his dad Raymond Gentry, a fiddler at a jam session in Sparta NC. He told me his son Scott was a real good bass player so if you ever meet Raymond Gentry you can believe what he tells you. He made a believer out of me. Thanks, Scott.

I also want to thank Bobby Patterson of Heritage Records in Galax Virginia, Marshall Craven of Star Studios in Millers Creek NC and Debbie Grier of Main Street Graphics in Independence Virginia for their help in this production.

I wish to thank my wife Penny Kilby for her love and support without which this recording would not have been made. She has been the backbone of these recording sessions and she has understood my frustrations of not being able to do the notes I want to and having to settle for the notes I can do. She has my love and gratitude forever.

This album is dedicated to my grandfather Cranor Kilby, who helped me understand the beauty of music and a lot about how to live my life. He loved to hear me play and I know he would be proud of this recording and the friends I have made. Through him I learned to appreciate the sweet sounds from a old man's fiddle strings. When we played together he called it "makin' music" so I hope you enjoy listenin' to it as much as I enjoyed makin' it.

Yours truly,
Steve Kilby



Here are all the musicians who played on this CD and the songs they played on.




Steve Kilby - lead and rhythm guitars on all tracks

Wayne Henderson - lead and rhythm guitar on 3, 13, 15

Robin Kessinger - lead and rhythm guitar on 2, 8, 13

Steve Kaufman - lead and rhythm guitar on 1, 6, 13

George Shuffler - lead and rhythm guitar on 5, 9

John Shuffler - bass on 5, 9, 10, 13

Bill Williams - bass on 2, 11, 16

Scott Gentry - bass on 1, 3, 4, 6, 7, 8, 12, 14, 15





NOTE: Number of strings broken on this recording session were
Here are some thumbnail photos taken in the studio during the recording of "Steve Kilby, Plain and Fancy". Click on the thumbnail photos for a larger view.
Steve Kilby
and
Wayne Henderson
warming up

Steve Kilby
and
Steve Kaufman
getting down
to business

Steve Kilby
and
Robin Kessinger
clowning around
George & John
Schuffler
in the studio

Scott Gentry
on bass

Bill Williams
on bass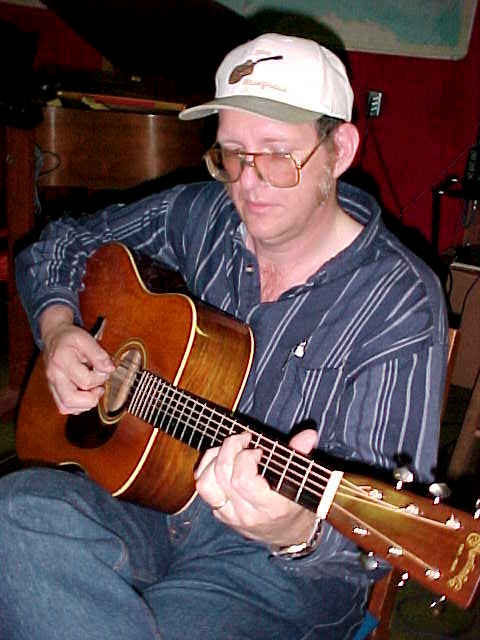 Steve Kilby
on guitar
Back to Top of Page