Alleghany Music Co.
Presents
"Echoes of the Blue Ridge"
A Musical Journey
The music of the Southern Appalachians has a long and rich history. Let us share this heritage with you through a unique program of words and music.
"Echoes of the Blue Ridge" was conceived as a tribute to the musical traditions and influences in and around the mountains of North Carolina and Virginia.
This 60-minute musical tour traces the history of the region and features the dazzling guitar playing of North Carolina native Steve Kilby.
Informative as well as entertaining, the program is ideal for:
· Schools
· Senior centers
· Civic groups
· Libraries
A 30-year veteran of many bands, recordings, and competitions, Steve learned much of the music he plays from his grandfather, and is honored to be part of a living musical tradition. Over the years, Steve's guitar wizardry has earned him many honors:
· Seven-time Fiddler's Grove guitar champion
· Two first-place ribbons and a best all-around performer trophy from Galax convention
· North Carolina State guitar champion
Steve is accompanied by his wife, Penny, on a variety of traditional acoustic instruments.
From its European roots established by 18th-century settlers, mountain music played a vital part in the life of rural communities, accompanying barn raisings, square dances, weddings, and informal social gatherings. "Echoes of The Blue Ridge" takes you from early fiddle tunes through the present music scene of the area, with stops along the way to examine Carter Family, bluegrass, and jazz influences. Enjoy 250 years' worth of superbly performed traditional music and learn about the people and places that created it.
Contact us to find out more about "Echoes of The Blue Ridge" and other musical services available from Alleghany Music Company.
Address: P.O. Box 40 Piney Creek, N.C. 28663
Phone: 336-359-8530
Email: 2guitars@alleghanymusic.com
Web Site: www.alleghanymusic.com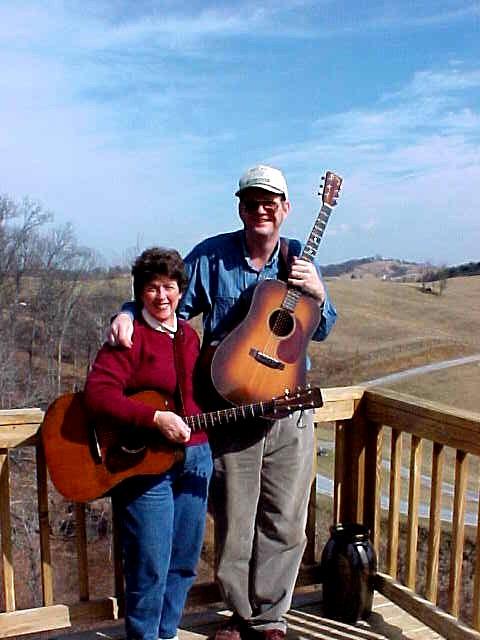 Back to Top of Page